Re:Action Forum
As our region looks to recover and rebuild from COVID-19, CivicAction brought together leaders from across sectors, generations, backgrounds and experiences to create a collective approach to recovery that instills trust, generates practical ideas and builds a commitment to take action. In June 2020, CivicAction brought together 300 civic leaders together for the Re:Action Forum, a virtual gathering to shape our region's collective reaction to COVID-19.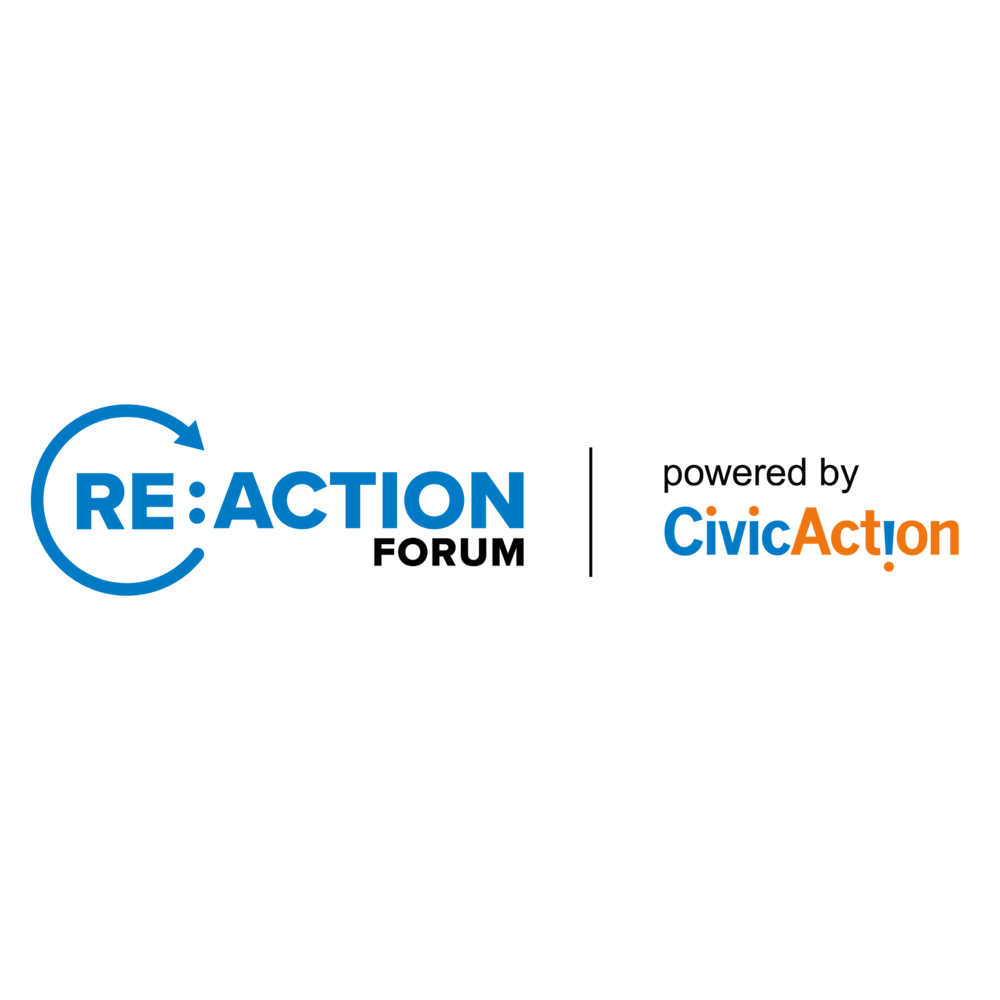 Problem Addressed
The Forum focused on three interconnected opportunities: helping young adults enter or re-enter the workforce; supporting mental wellbeing and combating loneliness; and building and maintaining trust in our communities and leaders. These issues were also examined through an anti-racism lens.
Solutions Implemented
Provided a platform to connect and co-create solutions.

Challenged the region to Build Back Better.

Put a spotlight on racial inequities further exacerbated by the pandemic.
Key Results
Engaged the Region
300 Participants
Generated Ideas
650+ Potential Actions
Created Accountability
100 Commitments Made
Ideas for Action
Here are some of the key themes and ideas for action that emerged at the Re:Action Forum. These ideas were generated by Forum participants.
Re:Employment
Helping young adults or those early in their career enter or re-enter the workforce.
Reimagine how we train young people to be more nimble, affordable and accessible.
Improve access to technology for vulnerable groups (from a digital divide to a digital provide).
Incentivize employers to acknowledge and recognize different forms of skills training vs traditional degrees.
Improve how people connect and access job opportunities.
Deconstruct the traditional job ad to attract applicants with non-traditional forms of credentials.
Encourage employers to create a more accessible recruitment process for traditionally underrepresented groups.
Mandatory training with an anti-racism lens in the workplace to help remove unconscious bias in the hiring, onboarding and retention process.
Link leaders and vulnerable populations to increase the number and diversity of informal connections (e.g. through networking activities).
Change how we value work and build programs to help those who have been excluded from the labour market (e.g. people who stayed how to raise a family and now want to do other work).
Mental Wellbeing
Supporting mental wellbeing and combating loneliness.
Build social connections within communities and neighbourhoods to better serve vulnerable residents.
Connect youth and seniors to strengthen empathy and technology literacy.
Deliver physical wellness resources (e.g. nutrition or exercise tips at the doors of seniors).
Create solutions for quality connections within neighbourhoods to better connect and serve the needs of all residents (including those who are marginalized).
Make workplace improvements.
Implement a workplace wellness certification to hold employers accountable for mental wellbeing.
Promote flexibility in ways of working and how to engage with organizations to humanize and support mental health in the workplace through an intersectional lens.
Trust
Building and maintaining the trust in our communities and leaders that's needed to rebuild.
Strengthen trust and understanding by amplifying voices and empowering uncomfortable, but necessary conversations.
Leverage a diverse network and create safe spaces for intentional conversations about privilege, education/awareness and collective action to tackle long-standing systemic barriers.
Focus on how to equitably restore the economy.
Identify organizations that have been recognized in the D&I space and bring them into "how" they can continue to take action.
Improve data collection and accountability to build back better.
Create digestible/accessible information for communities on what and who they need to know.
Create accountability for technology companies to increase transparency, communication and trust.
Better capture, analyze and use intersectional data to be more inclusive of communities.